This catalogue is published in conjunction with 2017-2018 Korea–Germany Contemporary Art Exchange Exhibition Irony & Idealism. It documents all exhibitions and artworks at 3 venues in Korea and Germany-Gyeonggi Museum of Modern Art, KF Gallery and Kunsthalle Münster-from September 2017 until September 2018.

Kim Yoonseo(Curator, Gyeonggi Museum of Modern Art)
Irony & Idealism is an international traveling exhibition for cultural exchange between Korea and Germany. 'In what ways, does this type of exhibition function as a link between the two countries?' Before I attempt to answer this question, the exhibition began by embracing a typical format―artists from both these countries were included in the exhibition. We use the conventional title in Korea, "international exhibition" whenever we organize an exhibition in collaboration with another country. But at this time, such a title sounds somewhat outdated. As I have thought about the modifier "international exhibition" more in depth, I felt it more ambiguous―it sounds pretty, like the phrase, "international marriage" in Korea. That is to say, I felt both terms inappropriate, even though we have been used for a long time. I pondered on what effects would result from this type of exchange exhibition between the two countries in the era of information overload―we are already able to share information limitlessly across national borders via similar patterns of life, the Internet, and SNS. In a sense, it seems anachronistic to set this type of exhibition―cultural exchange between different countries―as a vanguard; however, it would be still meaningful if the two countries share their capital and human resources in the process of actual organization by attracting more diverse viewers. Above all, the participating artists' visual language demonstrates the fact that individual layers and cultures are still valid in this globalized world. From this point of view, I should return to the starting point―the relationship between local specificity and art production is still pivotal to examine through an art exhibition.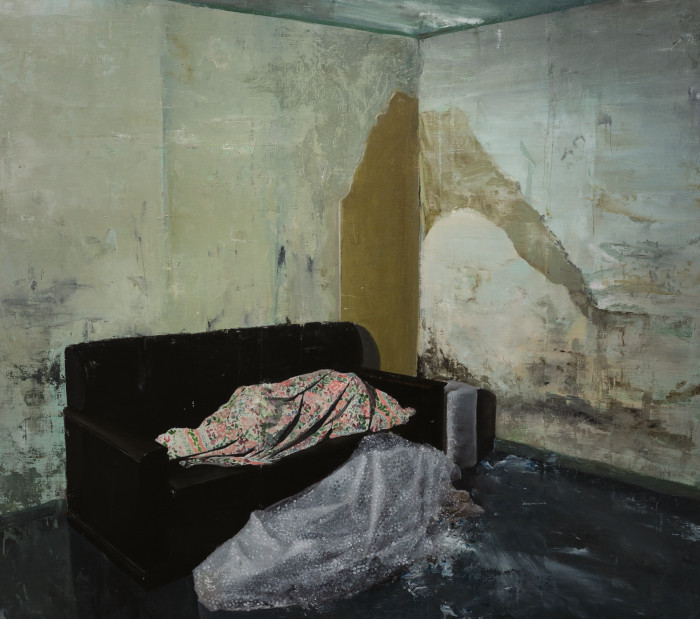 Ahn Jisan, Nap 2 oil on canvas, 190×210cm, courtesy Johyun Gallery, 2015
In order to visualize the theme of this exhibition, I distributed the works of eight artists among three venues in Korean and Germany. By displaying different works of art in each space, I wanted to make the exhibition an ongoing project. The three different spaces were contextualized according to the different cities (Ansan, Seoul, and Münster), as well as the different visions and aims of each institution. The GMoMA (Gyeonggi Museum of Modern Art) is situated near a tranquil park―it is the Hwarang Lake Park in Ansan located within one hour's driving distance from Seoul. GMoMA is a provincial museum of art supported by the Gyeonggi-do provincial government, and its building measures 1,500 square meters and is nine meters in height. Located on the second floor of a 32-story office building in the center of Seoul, the KF Gallery (Korea Foundation Gallery) is operated by the Ministry of Foreign Affairs to promote cultural exchange. The Kunsthalle Münster is situated in the city of Münster which is well known in Korea for the Skulptur Projekte Münster. Kunsthalle Münster is near a riverside of the old city, and it occupies 330 square meters by using one floor in a six-story red-brick building (the other five floors are used for the residence program for local artists). Working at these different three venues, I enjoyed searching for a new context created by conflicts and harmonies among the works of art. These processes are reflected in the exhibitions and catalogues. In particular, the catalogue was designed to demonstrate the changes of installation of art works according to the uniqueness of each venue.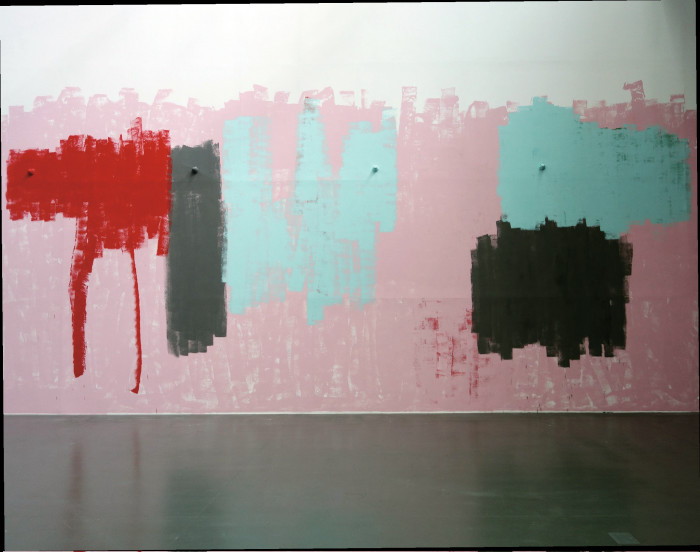 Gimhongsok, Untitled (Big wall) water paint on wall, courtesy of the artist and Gyeonggi Museum of Modern Art, 2017

I feel that I have to mention the title of the exhibition Irony & Idealism. Rather than explaining how the curators from the two countries agreed to use such a perplexing title, I would like to introduce one of the participating artists, Björn Dahlem. According to him, he continues working with a belief that only art is able to visualize something which cannot be explained via academic research or understood by the human mind. In a sense, this implies the ways in which art functions and exists―it is what this exhibition speaks to. Based in Berlin, Dahlem has been working on the secrets of the universe that human beings cannot fully comprehend―this project crosses the borders between art and science such as the theories of the universe, astronomy, quantum mechanics, and physics. It seems very natural that he has been influenced by Johannes Kepler, a German scientist and theologian of the sixteenth century. Dahlem seeks the reasons why the attitudes of scientists, who should set and enter a hypothesis in order to research something unknown―or something "higher"―seem religious.1 Scientists' work is similar to artists' work―it is intended to visualize and conceptualize something invisible or intangible. Dahlem employs sculpture as his main medium to deal with the intersections of science, religion, and art. By creating pieces of sculpture, he provides forms and shapes for something invisible including our belief systems, religion, science, and miracles. Sometimes he produces a huge piece of work that occupies an entire gallery space in order to express cosmic and abstract concepts. In a sense, his works seem incomplete rather than stable or tangible. By roughly combining fragile materials such as wood sticks, electric bulbs, and glasses, he expresses his universe―that is a metaphor of an unresolved concept in science or that of humankind's incomplete perception of and imagination about the universe.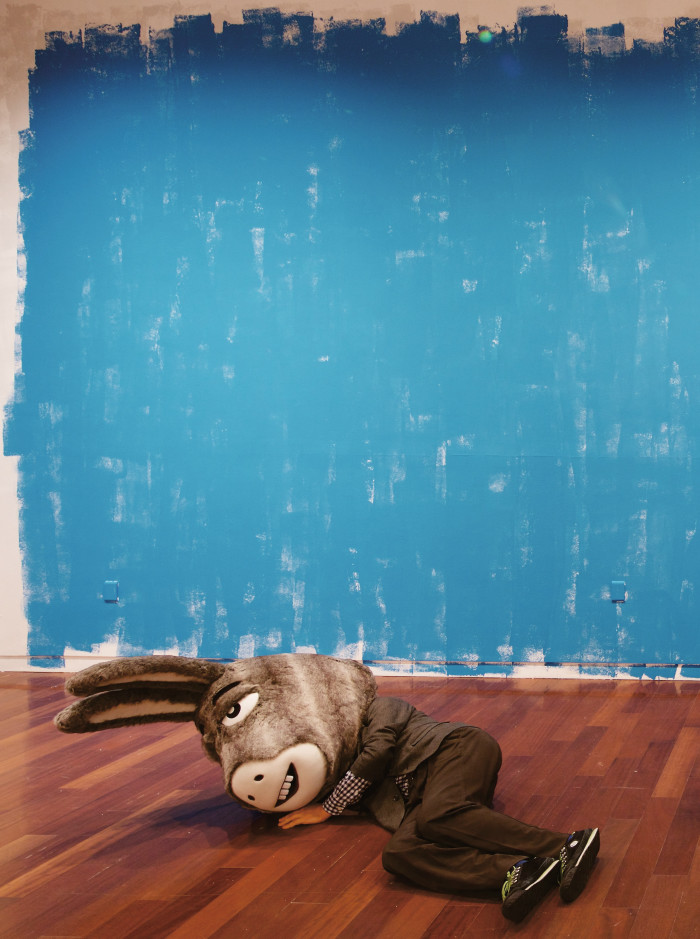 Exhibition scene
Not only Dahlem, but all of the participating artists are questioning and searching for worlds beyond the physical boundaries of reality and society through abstract attitudes. This exhibition focuses on how the participating artists' deep contemplation visualizes something invisible in our society that is so filled with materialism. There is a common attitude among them―like Kepler who tried verifying invisible things throughout his entire life, the participating artists are examining beliefs in ideals or something minute or insignificant. In their attitude, I see a premise that the "end might or might not be true," as well as continuing questions and dualism. she traces time and space with a little clue via her video works. Displayed in the GMoMA and the KF Gallery, Nam's video work Adoration of the Magi (2015) begins with the painting by the Italian painter Giotto di Bondone (1267~1337), which is also entitled Adoration of the Magi (1301). With his naked eye, Giotto once saw what he thought was a star―namely, Halley's Comet―that the Biblical Magi followed to witness the birth of the baby Jesus. Later, Giotto drew the star that he saw in his painting. Then since the astronomer Edmond Halley observed the big star through a telescope in 1682 and recorded it, we began calling the star, Halley's Comet. By juxtaposing video and still images, Nam's work explores immense times around Halley's Comet―it was at first seen with the naked eye of the Italian artist Giotto, and later through the astronomer Halley's telescope, and currently, the European Space Agency uses "Giotto" for the name of their space probe. In so doing, Nam's work demonstrates the ways in which the natural phenomena of comets have been perceived in the Christian belief system and then permeated the area of science. Her video begins from the cross-section diagram of human eye and then reach a close-up image of her eye―this points to the fact that Nam focuses on human perception and representation or its history rather than the comet itself.
<Copyright(c)2002 GGC All rights reserved.>