Though Yangpyeong is located not too far from Seoul, there is still a remote village hidden within the mountains with clean air and water. It is Myeongdal-ri, a town where residents who value preservation over development live in peace. Director Kim Ju-hyung began the operation of Myeongdalri Forest School here with a hope for citizens of the Seoul metropolitan area to experience a true rest.
Hello, Director Kim. When I first saw the name "Myeongdalri Forest School" on a map, I just thought of it as a place that teaches something. What exactly is a forest school?
Despite "school" in its name, it is not a place where anything is formally taught. If we are to say that we study a subject, it would be the nature, and our students would be people of all ages and genders in Korea.
Myeongdalri Forest School was created with a hope for people to enjoy the beautiful nature of Myeongdal-ri from morning and noon to evening and night. There are about 300 residents here in Myeongdal-ri and they are all determined to live and maintain the God-given natural environment except for residential areas. I hope that people of Seoul and Gyeonggi-do may also taste the warmth of the nature.
Owned by Yangpyeong-gun, Myeongdalri Forest School was established at the site of a closed-down school and later became an "Atopy-free Village" designated by Gyeonggi-do. Though it is difficult for a nurse to work at the Atopy-free Village Center for full-time, the facility is still well-equipped so the leader provides basic experiences for those who visit, and Yangpyeong-gun Public Health Center runs its atopy experience system twice a year. In short, the Forest School pays operating expenses as it is an asset of Yangpyeong-gun and, also sends managers to military bases for continued support.
A portion of the land was donated by four senior residents for the development of the town, which makes me feel more responsible in operating the facility more diligently. My goals are to further advertise and preserve Myeongdal-ri region and to contribute to job opportunities and income for the village residents.
The spectrum of visitors of the forest school is wide from nature camps of nearby elementary schools and seminar trainings for companies and religious organizations to school alumni meetings, family gatherings, and hiking clubs. I typically introduce Myeongdal-ri Forest School as the place where you must stay at least 24 hours during your lifetime.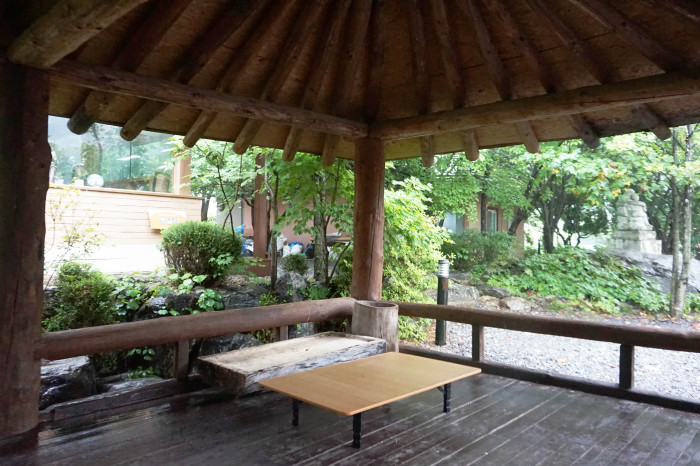 I heard that you were in many different professions before operating Myeongdalri Forest School. Are you originally from the area?
I was born here and also went to school here. The town was quiet and small back in the day when I went to school, and many people called it Yangpyeong oji, meaning a "remote" village. I attended an elementary school in the village until 3rd grade before moving to a school in a town below the following year. I was love-struck by a girl at the new school, and she is my wife. She and I are both from this town.
Though my parents always stayed in the hometown, I moved to Seoul after finishing school and worked in the finance industry for about 20 years before calling it quits and returned home, which happened about four years ago. It is a personal achievement for me to come back to my roots and run a forest school, but it seems like the adults in the village also view it as a positive move so they sometimes bring vegetables to be used at the cafeteria and help us in many different ways.

I heard that there are programs being run at the forest school. What are they?
Myeongdalri Forest School focuses on a day of true rest, instead of "school" or "programs." It aims to be a place where you may comfortably rest and have a time for friendly exchanges with the nature.
We run various food experience programs such as injeolmi or tofu making, and semi-regularly run other programs including forest commentary, handicraft, and natural dyeing. Since many people who come here are in groups from companies, local governments, schools, and clubs, we ask them to bring their own lecturers for a synergetic effect between our local programs and the lecturers in creating great programs.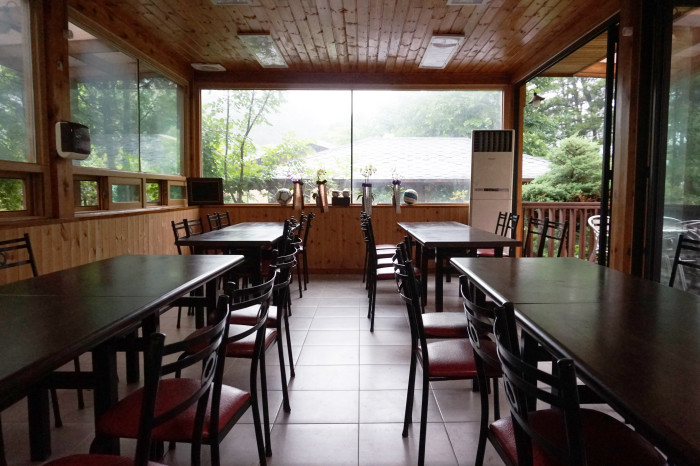 What would you like to boast about Myeongdalri Forest School?

Behind the forest school, there is Tongbangsan Mountain, which stretches in all directions. If you start from the lower village, you may go on either a 4-hour course or the all-day course. The valley in front is a good place to rest during summer because it is quiet and secluded. As cooking and eating are prohibited here, the natural environment has been conserved as it originally was. Many people from hiking clubs who had wanted to schedule their hiking trip often change their plans to stay overnight at the lodgings.
Residents of Myeongdal-ri tell one another not to live by going against the nature. Older people often use the term, "sluice." They use it to warn people that, if sluice is changed by developing the nature, it will bring rage upon the mankind.
On days with heavy rainfall, many of my acquaintances call me if I am okay but, in reality, our town is not likely to be damaged by the nature from, for example, a mountain collapse because it has not been developed much. If we don't reroute the sluice, the nature doesn't harm people.

Another fact I like about our forest school is that our pension is made of red clay rooms. It feels as if the nature holds our bodies in its arms as it is cool during summer and warm during winter.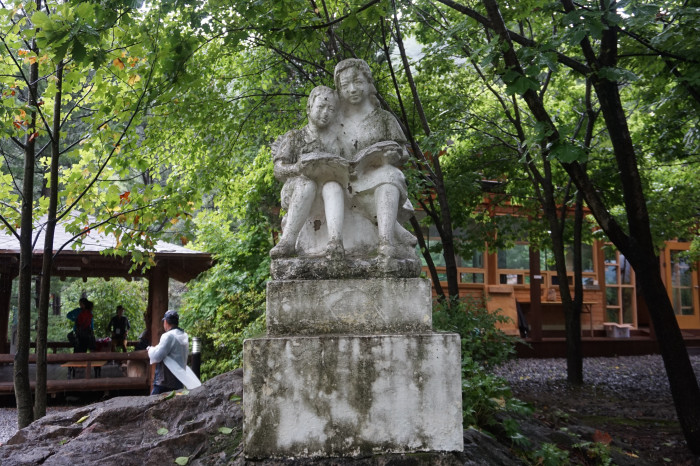 Have you personally experienced any changes in your life while operating the forest school?
It is personally quite an achievement to return to where I was born to discover what I want to do after retirement and carry a fulfilling life. I also love the fact that more and more people continue to learn about Myeongdalri Forest School while it is under operation. Group visitors normally make their reservations one to two months in advance, and thinking about what to cook for them and how to help them spend their days is another change and joy in my life.
A few days ago, 30 to 50 elementary school children visited and, for them, I diligently prepared a theory on water play. But theories were not important to the kids at all; they were just eager to get into the water. They were freely running around in the water and, though my face and hair were a mess because of the water balloons they threw at me, I still felt quite satisfied, thinking that I helped them having a special day here.
What some of the future plans that you have in mind?
How nice would it be if there is a stroll path on which mothers can comfortably walk with their babies in strollers? It doesn't have to be to the top, but I plan to establish a stroll path up to the hill, which can safely comfortably transport anyone in his or her typical, natural appearance, even for those who wear high heels.
There are about 23 million people within the boundaries of Gyeonggi-do and my goal is to have 2.3 million people to visit and stay in Myeongdal-ri one day each, sharing good food in an abundant, comfortable manner that would make everyone feel like they are at home.

Written and photos by Kim Sun-joo
Website https://myeongdalriforest.modoo.at/

<Copyright(c)2002 GGC All rights reserved.>