○ Newly loaded "ecological information notification service" in the Pyeonghwa Nurigil stamp tour application
○ Reflecting the results of the 'DMZ Area Natural Environment Ecology Survey' conducted in 2017-2019-Contains important ecological information on Pyeonghwa Nuri-gil (189 km) in 4 cities and counties in the DMZ.
○ Major animal and plant ecological information can be viewed on the map. Also equipped with a notification function when approaching the habitat
---
Gyeonggi-do is implementing a service that allows you to check information on the surrounding ecological environment while walking along the Pyeonghwa Nuri Road through the smartphone application "Pyeonghwa Nurigil Stamp Tour". 'Pyeonghwanurigil Stamp Tour' is an application developed by Gyeonggi-do in cooperation with a trekking certification agency this year so that visitors can enjoy a more convenient walking tour as more than 400,000 people visit Pyeonghwanurigil every year.
Provides map information for a total of 189km in 12 sections of Pyeonghwanuri-gil (3 Yeoncheon, 4 Paju, 3 Gimpo, and 2 Goyang), and where you are walking based on the GPS location system of your smartphone. It also has a'navigation' function that tells you if there is any.

This 'ecological information notification service', newly added to the application, is a function created to enable visitors to check information on animals and plants inhabiting the Pyeonghwanurigil area based on the location identification system. It is characterized by displaying about 10 species of major animals and plants per course on the map in the app, and clicking the icon allows you to view detailed information such as the name and classification of the organism, observation time and place, and growth. In addition, a 'notification function' was also provided to notify visitors when there is a habitat of the animal or plant within 50m of their location.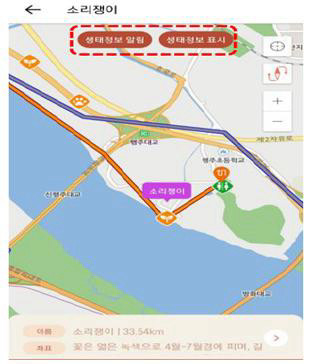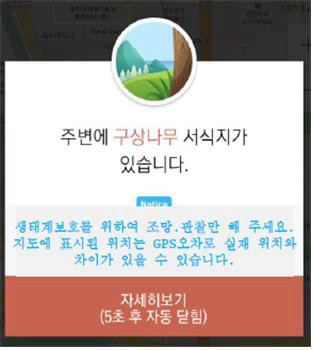 ▲ [Photo] 'Pyeonghwa Nurigil Stamp Tour App' Ecological Information Notification Service (Source: Gyeonggi-do News Portal)
In particular, this function reflects the results of the "DMZ Area Natural Environment Ecology Survey" conducted by Gyeonggi Province for the past three years from 2017 to 2019, so that you can know the actual latest ecological information of the Pyeonghwa Nurigil area.
Gyeonggi-do DMZ Policy Manager Soonhak Hong said, "We have developed this function to not only appreciate the scenery of Pyeonghwa Nuri-gil, but also enjoy a variety of experiences to see and learn the ecosystem." I hope that this will be an opportunity to recognize the importance of the company."
Gyeonggi Province, through the 'DMZ Area Natural Environment Ecology Survey', is home to 1,120 species of plants, 152 species of birds, and 10 species of mammals, including the endangered species of Plover, and the natural monument. I have confirmed that.
Based on the results of this year's survey, we are making efforts to promote the ecological value of the Pyeonghwa Nuri-gil by producing a comprehensive ecological resource report and a map of each city and county.

You can use it by selecting the Nurigil Stamp Tour in Google play store.

<Copyright(c)2002 GGC All rights reserved.>